How is Southwest performed in Domestic Airlines industry?
The Domestic Airlines industry is classified as having a medium level of concentration. IBISWorld believes that the top four industry players in this industry held a combined market share of around 50.5% in 2011. The most significant recent industry mergers were in 2008 when Delta Air Lines and Northwest Airlines merged and in 2010 when United Airlines and Continental Airlines merged creating the largest airline in the world. In April 2010, United Airlines Corporation and Continental Airlines also agreed to a merger, which was completed in October 2010. The overall trend among US airlines over the past five years has been an increase in market share for low-cost carriers such as US Airways, JetBlue and Southwest Airlines. This has been at the cost of market dominance by two of the industry's top players, American Airlines and United Airlines.
Market Share of Domestic Airlines in December 2011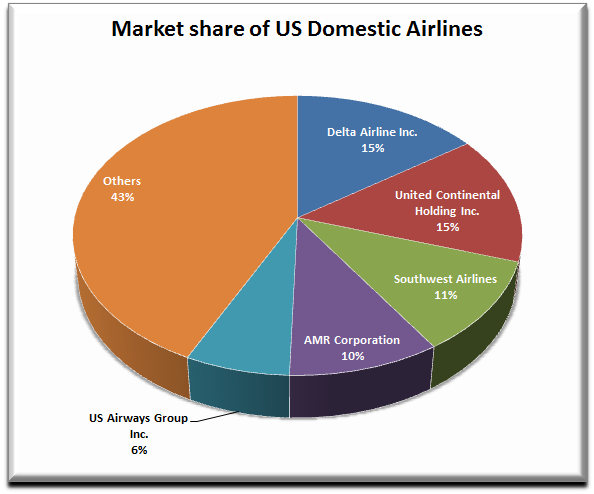 Southwest Airlines is a passenger airline that provides scheduled air transportation in the US. It is a domestic US airline that provides point-to-point, low-fare services rather than hub-and spoke service. Although it ranked only third in the US Domestic market, it became the largest airline in the world in terms of numbers of originating passengers carried. As of Sept. 30, 2010, they increased domestic market share to 21 percent in terms of numbers of originating passengers carried.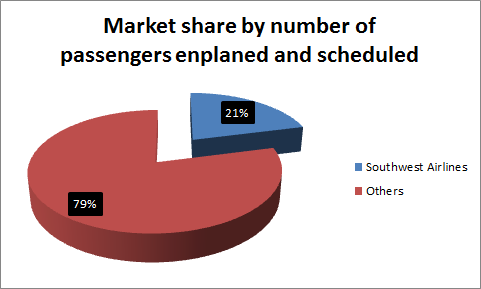 Southwest Airlines is the most successful low-cost carrier in the country with continued profitability for the past 38 years, even during periods of industry downturns. It is the largest domestic US airline by number of passengers enplaned and scheduled domestic departures, according to the Bureau of Transportation Statistics.
The Domestic Airlines industry will spend the next five years playing catch up after suffering at the hands of the recession in 2009. IBIS World forecasts that revenue will increase at an annualized rate of 2.0% over the five years to 2016, reaching $162.3 billion, with industry revenue expected to grow 6.2% to $156.4 billion in 2012. The industry's drivers all point to a recovery during 2012 and continued growth in the next five years; however, rising oil prices will threaten the forecast. Airfare is expected to increase in 2012, with passenger numbers slowly rising. Consumer and business confidence are expected to be up during the year, supporting demand for air travel. In the five years after 2016, global and domestic demand for travel across the United States is expected to rise, while a weaker US dollar will deter US residents from traveling overseas and increase domestic traffic. Low-cost airlines are expected to gain a higher share of revenue in the future, with competitive pressures leading to structural changes and consolidation.
Related articles
DuPont Analysis for Southwest Airlines Co. (2008-2010) Organizational Structure Analysis for Southwest Airlines Co.